Saturday, April 29, 2006
IGotNewsForYou.com is Live!
Amazing...I'm just about finished writing this announcement and the power in my house goes out... So, 40 minutes later, I'm happy to announce that
IGotNewsForYou.com is open for business
. Return visitors will notice navigation at the top of the blog, where before there was none. These are some of the major areas of the site. The "try now" link will of course let you try the system out right away. Trying is free; so you can generate pages, look through stories, muck around with the personalization and get a feeling for the entire thing without paying a dime. Then, when you've generated a page that you think would be perfect for someone, send it! It's only
$3.95
to do so ($9.95 + shipping to send a poster). Alternatively, (and this is really the best bargain), you can subscribe for
$14.95
for 1-year. That will let you send as many pages as you like, without paying anymore (unless you send posters, they're always extra). Pages are sent online -- actually, the system generates a URL where your page lives for 30 days after you buy it. The last step in the purchase involves sending an email to the recipient (the person you're giving the page to) so that they can also get the URL to the page with information about what you've bought them. For anyone that doesn't know what I'm talking about, I would encourage you to read some of the content on the site. Simply put, IGotNewsForYou.com offers personalized, funny newspaper-style pages (web-based/online and in poster-format). The idea is similar to a gift card or e-card, but better -- IGotNewsForYou is funnier and way more personalized. But enough about that...you can see for yourself. Welcome to everyone. We are very happy with IGotNewsForYou and very excited to share it with the world. We know nothing is perfect; but we're already working on changes and thinking up new and wild ideas. Of course, should you have any problems with anything on the site, and particularly with your purchase(s) please get in touch with us via email at
admin@igotnewsforyou.com
. Enjoy!
Friday, April 28, 2006
IGotNewsForYou.com Goes Live Tomorrow!
Hey folks, Well it's about 11:30pm EDT and I'm closing down for the night. But before I do, I wanted to let everyone know...IGotNewsForYou.com goes live tomorrow! I don't know exactly at what time we'll open the doors but I will make an announcement here. Once we go live I'll be working to distribute all of the free subscriptions that we've promised people and we'll be around to monitor the site, answer questions and start the long (and hopefully successful) journey. See you tomorrow!



Tuesday, April 25, 2006
Steven Harper Doesn't Like Coffins
In this morning's news I heard that Steven Harper and the Conservative government have decided to ban the media from being present when the bodies of four killed Canadian soldiers arrive home at CFB Trenton. Defense Minister Gordon O'Connor claims it's because the event should be a private matter for the army and the families of the deceased. Bullshit. I don't want to offend any of the family members of the four soldiers killed, but this kind of decision by our government really ticks me off. If anything, the returning of the soldiers
should
be publicized. Canadians should
see
those flag-draped coffins coming back, they should
think
about those dead soldiers, those broken families and
why
we've got kids over on the other side of the planet dying. And more are coming, you can be sure of that. Hiding behind the privacy of the families is cheap. Now, if the families come out and say they wanted it to be a private affair, fine, I can understand that. But it seems to me, if I had a family member die in the line of duty I'd
want
it publicized. I'd
want
people to know why my family member died, what that person believed in, why they were fighting...I'd
want
the support and understanding of Canadians, not privacy. I would grieve privately, as we all do for our lost loved ones, but I'd
want
Canadians to sit there and watch. In my opinion, Steven Harper is playing a dangerous game. He's clearly a control freak, evident by the way he collars his ministers and keeps them quiet. It sounds like a great idea in principle; control every single thing that's done and said, but it's a losing battle. The media will get to his people eventually, they will go after him and the weakest links in his government, and you can't rule with an iron fist forever. Eventually cracks will appear, they will grow into crevasses, and the foundation ultimately crumbles. Steven Harper doesn't like coffins. Who does? But I don't think he has any right to hide an event like this, to gloss over it is demeaning to the soldiers, who are ultimately
public servants
. I'm sure they would want the entire country to know them and see them return. In case Steven Harper or anyone else has forgotten, the soldiers are: * Corporal Matthew Dinning * Bombardier Myles Mansell * Corporal Randy Payne * Lieutenant William Turner Whether you believe in war or not, or the situation in Afghanistan or not, doesn't matter. What matters is that four soldiers who dedicated themselves to our country were killed and the government is trying to make that seem lighter, less important and less meaningful than it really is. No good, Steven Harper. Just plain no good. Read:
Ottawa fails fallen soldiers, critics say
(Technorati Tags:
steven harper
,
four dead soldiers
,
conservative government
)
Monday, April 24, 2006
5 Days Till Launch: IGotNewsForYou.com is Coming!
We've all been so busy getting IGotNewsForYou.com ready to launch, and with other things in our lives (apparently my dad's now taken to seeing how many chocolate-covered almonds he can fit in his mouth at once...) that the blog has been left to sit here a wee bit abandoned. I'm sorry blog. I missed you too. Truth be told, I'm not sure how many posts we'll be doing this week since we're launching in
5 days
. FIVE DAYS PEOPLE! HELLO?!?! Sorry about the yelling, it's just the pure panic swelling up inside me. I've been popping Pepto Bismol tablets for the last 2 weeks. Barring any unforeseen lunacy or last minute problems, we will launch IGotNewsForYou.com on
Saturday, April 29th
. Immediately thereafter I expect we'll be giving out the free subscriptions we've promised people: friends, family,
contest participants
, and others. It'll take awhile for us to get to everyone, so don't panic if you don't get your free subscription right away. Give us a couple days, I promise we'll get to you. And, we'll provide all the instructions you need via email (and probably on this blog) to get you started using the website. We're incredibly excited and nervous about the launch. We really hope people get a kick out of the service. We know there will be lots of feedback: positive, negative, constructive, etc. and we look forward to it all. As soon as we launch (barring the site crashing on us and ruining our lives) we'll start work immediately on more content, more features and more fun. On another note, today I almost blew up the blog. Technically, it was Blogger's fault, and if I had more time I'd probably switch to Wordpress or another service, but during the course of trying to save some template changes, Blogger barfed and destroyed my template. I had to find a cached version from Google and restore it. It was irritating work and it may not be 100% perfect, so if you discover a quirk on the blog please comment here or email me. Alright, before this dies on me, I'm posting this -- and if you don't hear from me this week it's cause I'm knee deep in personalized humor, crazy HTML/CSS/JavaScript code (crazy for an assbag like myself), testing and final preparation. See y'all soon!
Wednesday, April 12, 2006
Disaster Management and Scaling Big
Fast-Food From Hawaii
Last night I read an article titled
Long-distance journey of a fast-food order
(source: News.com). It's really worth reading. In a nutshell it's about McDonald's (and other fast-food joints) creating call center operations in various locations (including Hawaii) for taking drive-through food orders. So when you pull up to the neon menu to make your order and you hear, "How may I help you?" it might not be someone in the building right there...it could be someone anywhere. The remote call center person takes the order and sends it back to the store via the Internet. How cool is that? It's only a test project for McDonald's but they're already seeing value. The order process is a bit more efficient, and each second they shave off an order is of significant value; over the longer-term it means they can process more orders in less time. That equals money, folks. And while they don't say the mission of this project is to cut down significant labor, you know that's around the corner. Why do I need staff in every single restaurant around the clock when I can have a call center employee handle orders for multiple locations? Fewer staff means saving money. That's good business too. And, according to McDonald's they can track their call center people much more accurately than staff at local restaurants (makes sense). So they can track performance, breaks they're taking, etc. When you pee in a call center, somebody knows it...especially when you pee right on the floor in the main room... I can see some obvious glitches or possible glitches with the system - some remote person takes an order and it gets lost in the blackhole of the Internet as it's sent back. I didn't read a ton of details on the technology they're using to support the system. And who knows if customers might backlash when they start to feel like they're not getting that personalized service (I doubt it, but ya never know). Overall though, I think this is a slick idea, some real innovation on the part of someone at McDonald's. Competition in their market is tough, margins are tight, they're trying to squeeze where they can, improve where they can. This is the kind of thinking that all enterprises need to succeed. (Technorati Tags:
mcdonald's
,
hawaii
,
call centers
,
fast food
)
Tuesday, April 11, 2006
Injured by My Belt Buckle
In February, I introduced you to
The Yoskovitz Way
which highlights my family's inclination towards bizarre and ridiculous injuries as well as the subsequent exaggeration that must take place to milk those injuries for as long as possible. Today such an injury occured. That's right, I was injured by my belt buckle. Once you recover from the shock and awe, you'll ask yourself, "How Ben? How did such a horrible thing happen?" The explanation is really quite simple (and I apologize for the forthcoming imagery, although few of you know what I look like so picture Brad Pitt as opposed to Mel Brooks.) I was in the bathroom and I undid my pants. It only goes downhill from here trust me...I have a fairly regular leather belt, with a fairly regular belt buckle (not some oversized, 10 pound monster of a belt buckle that flashes and whatnot). So, my belt is undone and I let go of my pants. The pants fall to the ground. Quickly I might add. The belt buckle
slams
into my left foot. Like a jackhammer. Seriously. I yell (alright, it was more like a sissy yelp) and nearly trip over my crumpled up pants. I regain my balance but lift my foot and hop on the good one, all the while cursing under my breath, whining and laughing at the same time. After 3 aspirin and a quick shot of brandy, I was able to get to a chair and elevate the foot (no clue why that would be necessary mind you), and watched as it swelled up like a beach ball. I hate that belt. I may have to call in sick tomorrow at work, who knows if the headache from the brandy and aspirin will subside... (Technorati Tags:
weird injuries
,
foot injury
)
Saturday, April 08, 2006
Read Anything Good Lately?
I've recently come back from two business trips in the span of two weeks. The traveling has afforded me the opportunity to do some reading. See, when I'm at home, I don't read. Well, I read a bit of the newspaper, and a hockey trivia book my mother-in-law bought me, and perhaps I'll scan an Oprah magazine once in awhile (that's right, I'm not ashamed to admit it), but I don't really
read
. There's just no time to get into a good book. So without further ado, here are some books I've recently finished reading (in no particular order): 1.
The Apprenticeship of Duddy Kravitz
by
Mordecai Richler
. It was originally published in 1959 (if I'm not mistaken) and for many Canadians it was something you read in highschool. Somehow I missed it, but you can consider it a Canadian classic. What did I think of it? Well, if you're Jewish, from Montreal, you've lived in the Plateau, and you've visited St. Agathe, you'll get a kick out of it. Otherwise...Admittedly it's a classic and Richler is a famous writer but it's not what I'd call easy reading. If I want to get "deep" (ok, not really) I can see some parallels in my own life and ambition to what Duddy wanted for himself (although if you've read the book that makes me out to be a real jerk), and you can certainly see Richler playing around with the hero/anti-hero thing. Do we love Duddy or hate him? Bah, who knows. Again, this is not easy reading and certainly not for everyone. 2.
Villa Incognito
by
Tom Robbins
(2003). I think this was his most recent fiction novel and if you want easy reading, here it is. I love his work, but admittedly it's all pretty similar. There's a quirky story and a bizarre setting. There's plenty of sex (some of it only hinted at, some of it written plain as day on the page), perversion, overly analytical characters that might spend a few days analyzing how paint dries, and humor. Robbins is a funny guy and he's definitely got a way with words. If you've read his previous stuff (Still Life with Woodpecker & Skinny Legs and All being two of the ones I've enjoyed the most) then you'll recognize this book even if you don't check the author's name. His style is unmistakable. It's worth reading. It's worth a few laughs. But if you're tired of his style leave it alone, cause it's the same as always. 3.
The Da Vinci Code
by
Dan Brown
. Unless you've been living under a rock you've heard about this book and the upcoming movie with Tom Hanks. I can see why this story might make a good movie, and I hope it does. The book is worth reading. It's what I'd call a "page turner". Full of conspiracies, fast paced action and "aha!" moments, you can read it for the action story it is or really get lost in all of the details and possible truths; it just depends how you want to take it. I read it with both things in mind and so I enjoyed my couple hours with Mr. Dan Brown's thoughts and it left me with some things to ponder. Now I'm not a Christian so should any of his stuff prove absolutely true, my core being won't be rocked like a cheap hooker, and to be honest it wouldn't totally surprise me. You mean there are people who have and want power that want to keep it, treat others like crap and make sure all circumstances both in the past and the future suit their needs? No way. 4.
The Five People You Meet in Heaven
by
Mitch Albom
. A fast and easy read with a bit of thinking to do after. I wouldn't say this book "rocked my world" or left me contemplating life's mysteries, but it has an interesting and unique premise. It's one of those books that knocks you down and then builds you up to a happy ending. The main character's life is basically crap, you feel for the guy, it feels depressing; then he goes to heaven, meets five people and comes out OK. At the end of the day it leaves you with the warm and fuzzies. And of course, asking the question, "What five people will I meet in heaven?" 5.
The Alchemist
by
Paulo Coelho
. It's a short book and worth reading. Lots of religious aspects to it (if you're into that) and again, a unique idea: "Your Personal Legend." I got a kick out of that part, and it's one of those books that does make you think. Are there signs all over the place, omens and symbols that we're missing cause we're not looking for them? Hhhmm...It's not a heavy book, and it's not the most exciting book either, but it does give one pause to think about life and everything around. I liked all of the books. Each one was different (although The Alchemist and The Five People You Meet in Heaven are the most similar in style/theme) so it depends a great deal on what mood you're in. The Apprenticeship of Duddy Kravitz was probably my least favorite from an "entertainment dollar" perspective. Villa Incognito will make you laugh the most, and The Da Vinci Code will probably grab you the most. Next on my list: Truman Capote's In Cold Blood. (Technorati Tags:
mordecai richler
,
mitch albom
,
paulo coelho
,
dan brown
,
da vinci code
,
tom robbins
,
truman capote
)
Friday, April 07, 2006
When Is IGotNewsForYou Going Live?
Good question. And it's a question more and more people have been asking me. The pressure's on folks. We said April, didn't we? Well that's still our goal, but we're now looking at the
end of April
. I know, I know, that's not terribly precise, but our list of things to do is still pretty long. I won't bore you with the details. We are getting there though. Hang in there, hold on tight and get ready for the launch! (End of April, honest.) A few things to remember: 1. The
Funny Fake News Writing Contest
is going strong. I'm still looking for more submissions, and hoping that people who submitted the first time do so again. I know you're out there crafting brilliant fake news, so send it along already! The prize package is growing, and I'm thinking of breaking it up into 1st, 2nd and 3rd place prizes - so there'll be more to go around! 2. Everyone that contributes a story to the writing contest will receive a
1 year FREE subscription
to IGotNewsForYou. That'll allow you to send out as many pages as you like to friends, family, etc. 3. If you've got a prize you'd like to donate to the contest, please
let me know
. We've already got some great prizes from the likes of
BlogBeat
,
Mark Rayner
,
Jim Estill
and
SnapShirts.com
. 4. If you're interested in helping us promote the launch of IGotNewsForYou, please get in touch with me via
email
. I'd like to thank everyone for their patience. I know the wait will be worth it, and you'll get a huge kick out of IGotNewsForYou once it's live.
Saturday, April 01, 2006
SnapShirts Donates to the Writing Contest!
Recently, I heard about a company called
SnapShirts
from
eHub
. SnapShirts allows you to create custom t-shirts of word clouds from your own blog or your favorite books/authors. What's a word cloud you ask?
A word cloud is a visual depiction of content (words) used in a body of text.
Here's a sample: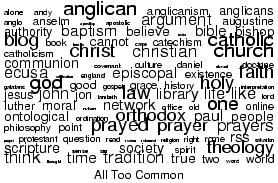 (Taken from
All Too Common
; found through a Google search of "word cloud") So you can go to SnapShirts.com and make your own t-shirt, using your blog or pulling word clouds from famous authors/books. It's a cool way to create a really personalized item (assuming you generate a word cloud from your blog). Taking a look at the site, I thought they would be a good fit for our writing contest -- they provide something that's personalized (similar to IGotNewsForYou) and it's related to writing/words (again, similar to IGotNewsForYou). So I got in touch with
Jonah Keegan
and sure enough, he's agreed to
donate a word cloud t-shirt to the writing contest!
If you're not familiar with the writing contest, check
here
. The t-shirts are $18, which is a good value for getting something unique and fun. If you're not going to try and win one through the contest then you should definitely check out the site and see what you think. Thanks go out to Jonah at
SnapShirts
for the donation. (Technorati Tags:
snapshirts
,
writing contest
,
jonah keegan
,
word cloud
)